KCMA – Environmental Stewardship Program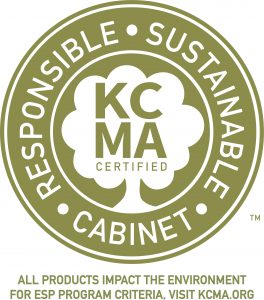 Finding the KCMA ESP Green Seal on our products should give you the satisfaction of knowing that their impact on the environment during manufacturing has been checked from start to finish. The certification process ranges from raw materials procurement procedures through the entire manufacturing process. We also receive credit by creating alternative energy, using by-products, implementing an energy conservation program, and by being actively involved in recycling programs. Karman has proudly recertified annually for this and other environmentally significant accredidations.
KCMA – ANSI/KCMA A161.1 Certification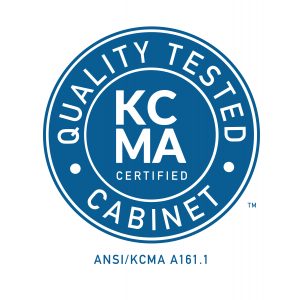 Cabinets bearing the ANSI/KCMA 161.1 certification have been extensively tested according to rigorous standards developed, and periodically revised, by a committee operating under rules set by the American National Standards Institute (ANSI) and developed by the Kitchen Cabinet Manufacturers Association (KCMA).
ANSI/KCMA 161.1 certification requirements can be found here
Click here to review the benefits of certification
CARB – Compliance


Karman veneers, particle boards, and MDF core products are Phase I compliant with the stringent CARB (formerly the California Air Resource Board) air quality standard by substantially lowering the level of formaldehyde emissions from these products. We are working diligently to surpass CARB standards within the cabinet industry. In fact, 98% of our hardwood plywood core is already Phase II Compliant.
LEED – Program Credits


Some of Karman materials qualify for Leadership in Energy and Environmental Design (LEED) Program credits. LEED is a nationally recognized certification program standard in green development and building designs. It promotes the use of environmentally-friendly products and materials used in development of sustainable green buildings.
EPP – Downstream Program


All of Cabinetry by Karman's composite materials are certified under the Composite Panel Association's Environmentally Preferred Products (EPP) Downstream Program. This seal validates that our products:
Use 100% recycled or recovered wood fiber.
Contain less than 0.18 ppm of formaldehyde in unfinished particleboard.
Contain less than 0.21 ppm of formaldehyde in unfinished medium density fiberboard.
Are included in ongoing participant testing for formaldehyde emissions.
Are included in quarterly audits to verify recycled content, formaldehyde emissions, and adherence to QC procedures that meet the American Society for Testing and Materials (ASTM) protocol.